Merry Tiddly Tuesday! :)
Meet
Minnie's Egg
nicknamed Minnie the Egghead...LOL
(if you are looking for other recent images, click
HERE
).
Did you know that I design rubber stamps for
Stamping Bella
too?
There are some new adorable pixies (and mermaids by GreenBean too) floating about her site today....
Here is one of my new pixies... Go visit Bella to find her. :)
This week, the
challenge blog
is focusing on "Bunny Hopping to Make some New Friends" (with a pretty good prize :D) and I thought I would focus on something similar. So here goes with an extra "Refer a Friend" Tiddly Inks opportunity...:)
Send a friend to
Tiddly Inks
and get entered to win $15 worth of images
One person will win $15 worth of their choice of images
Well, you have 2 weeks to do 3 things to get qualified:
Create a blog post sharing an new Tiddly Inks card and add the "refer a friend" badge above or in the sidebar (or the one on the challenge blog).
LIKE Tidldy Inks's facebook page if you haven't already (and pretty please invite your friends to LIKE it too---go to the bottom of the WELCOME page and follow the directions).
Come back here after doing Number 1 and 2 and link your exact blog post URL--the one that has your card---in the Inlinkz bar.

Post in the Inlinkz link bar by April 18 at 11:58 PM CST.

Return on April 20 to see the winner and to view the entries in the Inlinkz list and meet some new friends in an informal blog hop. :) I guarantee you will find at least one blog that inspires you.
Sounds fun, right? :) Well, you have 2 weeks to find out and I hope I get to meet a bunch of new friends and that you do too...come on back soon and get inspired. :)
At the end of this two weeks, we will start our
Party, Party, Party!
one-year anniversary/birthday party and it will includes lots of new images, some goodies, and all sorts of lovely fun things. Until then, I will be hoarding most of my new images LOL, but there are plenty to be found
HERE
until then.
I am sponsoring my lovely friend Betty and the
Burtonesque Dolls
this week. Pop in and check their challenge out. :)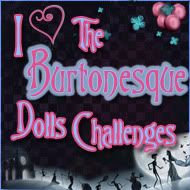 Have a great week all my dear friends! :)